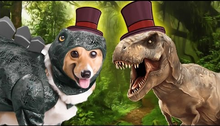 The Hat is a series in which Nova uses a "Hat Draw Generator" to pick out and play horrible games that he's collected over time. These games may have been used or intended to be used in series such as Kiddy Corner or Let's Play Shit.
The series was conceived when James came to the realization that he had too many games left over from series such as Let's Play Shit and The Kiddy Corner. He wanted to put them to use before getting rid of them, so he decided to showcase them in some form or fashion.
Joe has appeared as a guest in the third episode.
The hat used in the thumbnails closely resembles the one used in the Warden Nova fan art. Based on the warden from 'Superjail!', the fan art was Nova's profile picture on most of his accounts for many years.
Ad blocker interference detected!
Wikia is a free-to-use site that makes money from advertising. We have a modified experience for viewers using ad blockers

Wikia is not accessible if you've made further modifications. Remove the custom ad blocker rule(s) and the page will load as expected.