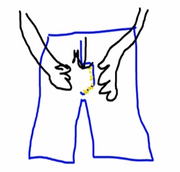 Unzip was a classic gag among Nova and the Creatures. It stems from Nova's attempt to draw the word "unzip" in a game of Draw My Thing.
During an episode of Draw My Thing with Nova, Kootra, Ze, Sly, and Junkyard, Nova was faced with the challenge of drawing the word "unzip". While he did try his best to get the action of unzipping across to the others, the picture was so crudely drawn that the group couldn't help but burst into laughter. It became a common phrase among the Creatures until it eventually faded into obscurity as time went on.
Draw My Thing - w/Nova & Creatures Ep.1
Ad blocker interference detected!
Wikia is a free-to-use site that makes money from advertising. We have a modified experience for viewers using ad blockers

Wikia is not accessible if you've made further modifications. Remove the custom ad blocker rule(s) and the page will load as expected.