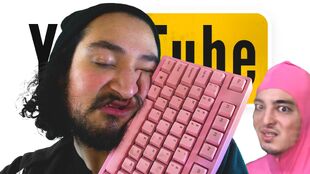 Wrong Side Of YouTube is a Cow Chop series featuring James and Aleks, where they use the search feature on YouTube to find strange and obscure videos. James or Aleks will search either a random string of characters or a then-currently trending topic, and will watch whatever videos catch their eyes. A lot of the time they'll use YouTube's built-in search filters to get more bizarre, unknown videos.
Episodes
Edit
Episode 1 of the series is the most viewed video on the Cow Chop channel with 1.8 million views.
Michael Jones appears in episode 3.
Brett appears in episode 15.
Dex appears in episode 18.
Jakob appears in place of James in episode 43.